New Additions to our Museum Trust Board
Busy, busy is how we would describe the Museum – lots of children visiting us and our new exhibition is starting to take shape rather rapidly.
We have also had additions to our Museum Trust Board. I would like to introduce Sharon Wright & Janet Mitchell who join us as Trustees. Sharon and Janet are both current volunteers with us in the Museum.
Sharon moved to Whitianga with her family approximately 12 years ago. She has a particular interest in Photography and history. She has been involved in art with the community and in particular running photography sessions for children including her love of history.
Janet moved to Whitianga with her partner around 3 years ago. She has been a volunteer here in the Museum for just over 2 years. She is very involved with our collection and the processes for the care of the objects.
Both Sharon and Janet have a passion to keep our history alive for our future generations. They both have said it's an exciting time to be involved with the Museum and are looking forward to our upcoming projects
If you have a passion for history like our new board members and current volunteers, then please come and see us. We are always looking for new volunteers and as we said this is an exciting time for us her at the Museum.
See you all soon
Becs Cox – Manager
Article first published in The Informer
It has begun!! We have started the work on our new exhibit 'Twelve Days – 1769' and in fact as you read this the main 'bones' of the exhibit is complete and now it's the pretty design stuff to do.
The Mercury Bay Museum in Whitianga has recently unveiled a new HMS Buffalo exhibit. Work on the exhibit began in February this year and was completed at the end of June. "Myself and my volunteer team have been working hard over the last few months to put together the...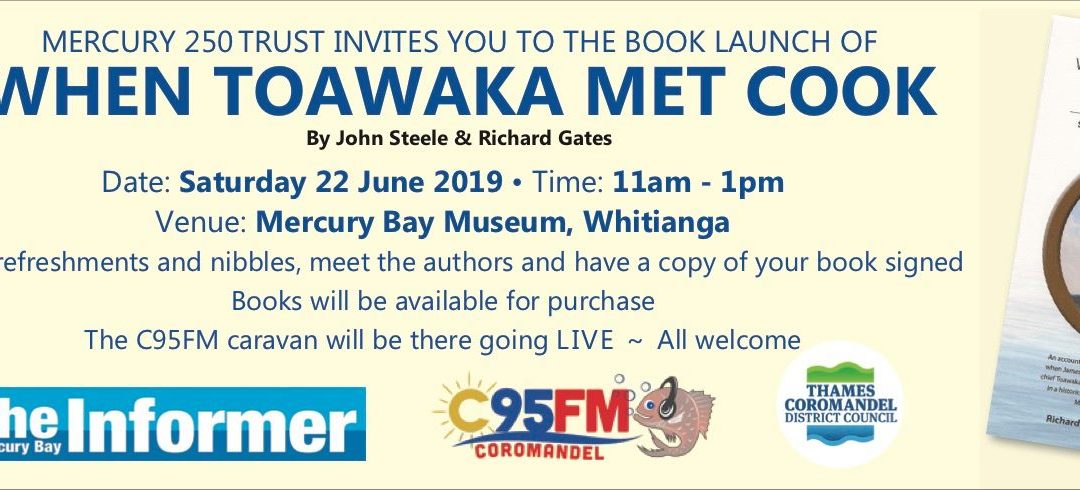 We are so excited to be hosting this event this weekend!! Come in, purchase a book, get it signed and then have a look around the museum!! See you Saturday!!